Watch the trailer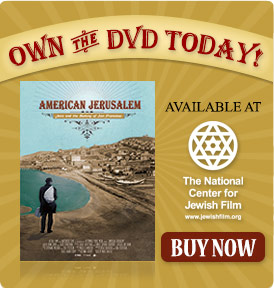 View the image gallery
Where to see
National Public TV:
In April and May 2014 American Jerusalem aired on PBS and other National Television channels. It exceeded 1000 broadcasts with 79.09% of the country covered, including 92% of the top 25 markets. Thank you viewers for making American Jerusalem such a success!
Upcoming Screenings:
Council of American Jewish Museums, March 8, 2015
Carmel Jewish Film Festival, March 15, 2015
Past Screenings:
World Premiere at the San Francisco Jewish Film Festival, Castro Theater, San Francisco and Palo Alto

The Skirball Cultural Center, Los Angeles

The Magnes Collection of Jewish Art and Life, Berkeley

Ventura County Jewish Film Festival

Vogue Theater, San Francisco

Napa Valley Film Festival

Throckmorton Theater, Mill Valley

Rialto Cinemas, Sebastopol

Rialto Cinemas Elmwood, Berkeley

Tucson Jewish Film Festival

Atlanta Jewish Film Festival

Center for Jewish History, New York City

National Museum of Jewish History, Philadelphia

San Luis Obispo International Film Festival

East Bay Jewish Film Festival

Palm Beach International Film Festival

Toronto Jewish Film Festival

Tallahassee Film Society

Rochester Jewish Film Festival

International Conference on Jewish Genealogy

New Parkway Theater Oakland

MeCEFF Medias Central European Film Festival, Moinesti, Romania

Oregon Jewish Museum, Portland

Sinai Temple, Los Angeles

Arizona Jewish Historical Society

Beth Chaim Congregation, Danville

Temple Isaiah of Contra Costa, Lafayette

Temple Beth Sholom, Sarasota Florida,
Other screening are in the process of being arranged. Stay tuned for details.
If you would like to arrange a screening, please contact our distribution partner, The National Center for Jewish Film at 781-736-8600, www.jewishfilm.org