Watch the trailer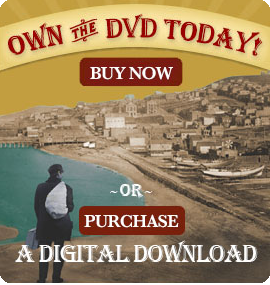 View the image gallery
The Philanthropists
San Francisco Values
Jewish pioneers established a uniquely San Francisco tradition, that continues to this day, of philanthropy not just for the Jewish community, but for all San Franciscans.
In 1854, Levi Strauss gave five dollars to the San Francisco Protestant Orphanage (today's Edgewood Center for Children and Families), reportedly his first charitable donation.
This gift set a precedent, one that sets apart the San Francisco Jewish philanthropic community to this day.
From the beginning, Strauss and other Jewish pioneers to San Francisco not only made significant charitable donations to Jewish causes, but notably, to civic institutions and ecumenical groups. Perhaps more so than in any other city in America, the Jewish community in San Francisco can be proud of its unbroken legacy of giving back to the city, from the Gold Rush to today.
"One of the most powerful testimonies to Jewish life in San Francisco is the way in which business leaders took the wealth that they created and returned it back to their communities," says Marc Dollinger, the Richard and Rhoda Goldman Chair in Jewish Studies and Social Responsibility at San Francisco State University. "The pioneer Jews and their descendants, from the middle of the 19th century to today, decided to give out their grant money without regard to religious denomination or even to one's religious beliefs. They were creating institutions not just for the Jewish community, but for the community at large."
As American Jerusalem: Jews and the Making of San Francisco demonstrates, San Francisco Jews, from the start, loved their city and gave back to it generously. Levi Strauss donated funds to more than a dozen civic organizations. In 1897 he endowed 28 scholarships at the University of California at Berkeley. He also gave to many Jewish organizations, in San Francisco, California, the United States, and abroad.
Strauss was typical of the pioneer Jewish community leaders of the day. As far back as 1859, Israel Benjamin, a Turkish Jew, world traveler, and writer, observed of the San Francisco Jewish community: "They are principal supporters of the opera house, for some of them are very fond of music and know a good deal about it. Whenever an undertaking of public interest or benefit is to be carried out, the Jews are looked to first of all, because they are always ready to contribute, and such undertakings are generally successful because of their assistance."
Another such groundbreaker was Isaias Hellman, who bought and turned Wells Fargo Bank into a powerhouse. He was arguably the most influential Jewish business leader in the West, and one of San Francisco's most munificent benefactors. Upon his beloved wife's Esther's death in 1908, Hellman financed and donated a wing to Mount Zion Hospital in honor of his late wife. He was a UC Berkeley Regent (as well as one of the founders of Southern California University), and he was instrumental in providing leadership and financial relief to San Francisco after the 1906 earthquake. Hellman was one of three Jews on the Pan Pacific International Exposition Board of Directors (along with Leon Sloss and Michael de Young).
His great-grandson Warren Hellman, who passed away in 2011, was a beloved figure in the city, and was the key supporter behind such enterprises as the San Francisco Free Clinic, The Bay Citizen, a online journalistic initiative, and of course, one of his finest legacies, the free Hardly Strictly Bluegrass Festival.
Establishing a tradition
Perhaps the most influential and philanthropic Jewish pioneer family in San Francisco throughout the 20th century and continuing to this very day, is the Haas/Stern/Koshland clan, related through Levi Strauss (as well as other Jewish pioneer families). Strauss never married, but his four nephews took over the company and their descendants have been remarkable community leaders and significant benefactors to San Francisco and its Jewish community ever since.
The family tradition of giving begun by Levi Strauss was amplified by Walter Haas Sr. and Daniel Koshland. They were first cousins and brother-in-law, the grandsons of wool merchant Simon Koshland, who came to California around 1850.
Walter and Daniel, who were best of friends and ran Levi Strauss and Company together, were passionate about philanthropy. They became charter members of the Community Chest, forerunner of the United Way. Daniel can be considered the most dedicated philanthropist in the Bay Area in the first half of the 20th century. He was a tireless leader in the Jewish community. In addition in 1948 he was the driving force in the formation of the San Francisco Foundation.
Walter's father, Abraham Haas, emigrated from Bavaria at age 16, and came to the West Coast with his 14-year old brother, William. They launched and ran a prosperous grocery chain up and down the Pacific Coast. Abe was on the board of many Jewish charities and was one of the prime movers behind the formation of the San Francisco Jewish Federation in 1910. William built the Haas Lilienthal House, which in 1972 the family gifted to the Foundation for San Francisco's Architectural Heritage (today's SF Heritage). Many of William's descendants—such as the Branstens and Lilienthals—have been prominent and avid San Francisco supporters. His granddaughter, Madeleine Haas Russell, stood out as a leading philanthropist and political activist.
Meanwhile, Abe Haas's son Walter Haas Sr. married Elise Stern, the only child of Sigmund (Levi's nephew) and Rosalie Meyer Stern. Elise was an early collector of modern art and was instrumental in the formation of what is now the San Francisco Museum of Modern Art, securing one of the world's most impressive collections of modern art.
In 1931, Rosalie Meyer Stern donated to the City of San Francisco the land now known as Sigmund Stern Grove, named in memory of her husband, to be preserved as a park in which the public could enjoy free concerts. The Stern Grove Festival is one of the city's most beloved institutions, presenting and sponsoring free concerts and outreach programs each summer. Rosalie's great grandson, Douglas Goldman, currently serves as Chair of the Stern Grove Festival Board.
Walter's three children —Walter Jr., Rhoda and Peter—and their children and grandchildren have continued that tradition of giving to the city. Rhoda and her husband, Richard Goldman, established the Richard and Rhoda Goldman Fund in 1951 to support a wide range of efforts: strengthening the Jewish community, supporting Israel, addressing the needs of vulnerable populations, expanding educational opportunities, sustaining cultural institutions, and protecting the environment. In 1990, Richard and Rhoda Goldman established the prestigious Goldman Environmental Prize, which continues to annually honor grassroots environmental heroes worldwide.
In 1953, Walter Haas Jr. and his wife Evelyn, created a foundation, the Evelyn & Walter Haas Jr. Fund, that has played a significant role in shaping San Francisco. Focusing on immigration rights, gay and lesbian rights and education, the foundation also has also been a key player in restoring Crissy Field and upgrading the Presidio for the public. Walter Jr.'s greatest legacy may be at UC Berkeley— he endowed UC Berkeley's business school, the Haas School of Business, in memory of his father, Walter Haas Sr. Walter Haas Jr. also was the lead benefactor in the renovation of UC Berkeley Haas Pavilion, home of the school's basketball and volleyball teams.
The Miriam and Peter Haas Fund has provided the resources for many charitable endeavors, focusing on youth development. The Fund was the lead contributor to the endowment of the Haas Center for Public Service at Stanford.
Landmarks and Legacies
Many other San Francisco Jewish pioneers were also generous, serving on charitable boards and making significant donations to both Jewish and civic causes. Says Rabbi Sydney Mintz of Congregation Emanu-El: "Walk around San Francisco today and you see the names of the descendants of those first families all over San Francisco. And you see their names less on the synagogues today, and more in connection to the opera and the parks in ways that most people in San Francisco don't even know that they're Jewish families anymore."
For example, newspaper publisher Michael de Young created his eponymous art museum in 1895. Lloyd Dinkelspiel, president of the Stanford Board of Trustees, gifted the Dinkelspiel Auditorium to Stanford University. Hundreds of thousands of patrons over the years have enjoyed performances at Zellerbach Auditorium on the UC Berkeley campus. If you visit the magnificent California Academy of Sciences in Golden Gate Park, you can thank Ignatz Steinhart—it began as the Steinhardt Aquarium, built in 1917.
In the early part of the 20th century, one of the most civically engaged and generous families in San Francisco were the Fleishhackers, Morton Jr. and Herbert Jr. Their grandfather Aaron had come to San Francisco in 1851 from Bavaria. For many years, Herbert was the president of the San Francisco Parks Commission. He funded the Fleishhacker Pool and Zoo (now the San Francisco Zoo) as well as contributing significant funds to the building of the War Memorial Opera House (working in concert with two other Jewish philanthropists, Emanuel Heller and Milton Esberg) and the California Palace and Legion of Honor. His brother Mortimer Jr.. was the primary force behind the creation of the American Conservatory Theater (ACT).
These pioneer Jewish families—and there are many, many more in the Bay Area, still contributing to the greater good—gave back to San Francisco because the city allowed them to build a life they could have never imagined. And it was their Jewish roots that informed their values and spurred their actions.
As Kevin Starr, the eminent State Librarian of California puts it, "This Jewish idea of Tikkun Olam—repair the world—has become encoded in San Francisco. It is a significantly Jewish message about the promise of urban life, the promise of American life. It's fair to say that San Francisco has been formed by Jewish values— in fact, Jewish San Francisco values—but you don't know it that way—you just know it as a San Francisco value."
Note: Some of the families mentioned in this article were donors to American Jerusalem.